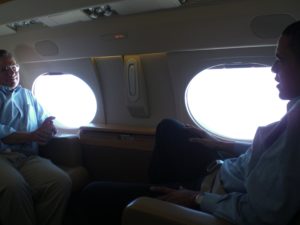 In August-September 2006, then-Senator Obama and I traveled to South Africa, Kenya, Djibouti, Ethiopia, and Chad together.  When we started this five-country journey, I believed that we were different in terms of our perspectives.  After all, I was a Republican who had been in the military for thirty-two years and he was a community organizer and a Democrat.  I soon learned that we had much in common; it started with a deep love for our country.  We shared a strong desire to serve our country, to safeguard our democratic institutions, and to protect our American values.  When I said "goodbye" to Senator Obama at O'Hare International Airport after seventeen days in Africa, I did so not only as a traveling companion, Kiswahili translator, and debating partner, but as a friend.
---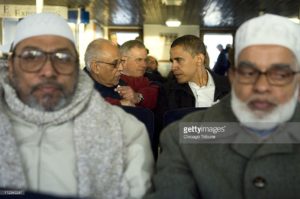 Our trip began to South Africa. began with a poignant trip to Robben Island. The impenetrable fortress on the small land mass five miles off the southern tip of the continent served as a government prison during the apartheid period.2 During the twenty-minute boat ride from Cape Town, we sat on plastic seats in the partially enclosed cabin section of the ferry boat and tried to hear our tour guide over the rumbling engines and blowing wind. Ahmed Kathrada, known for twenty-six years as Prisoner No. 468, provided insights about his captivity as well as that of Nelson Mandela, the first black president of South Africa.
---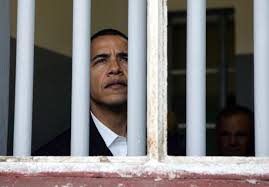 Once inside the penitentiary, Kathrada escorted us to the small room where the government of South Africa incarcerated Mr. Mandela for eighteen of his twenty-seven years of imprisonment. Senator Obama and I stood in this cell, looking out from behind the same bars that secured Mr. Mandela's window, reflecting quietly on these almost three lost decades of Mr. Mandela's life.
---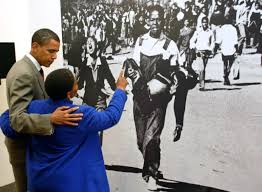 The Hector Pieterson Museum was our first stop in Soweto. Antoinette Sithole, Hector's sister, led us on a tour. I can remember being behind Senator Obama as he stood with his arm around Mrs. Sithole's shoulder, studying the details of a large black-and-white photograph hanging on the museum wall. The iconic picture captured the anguish and urgency on the faces of Antoinette and Mbuyisa Makhubo, the lanky teenager carrying a dying thirteen-year-old student Hector in his arms as they ran to get medical attention.
---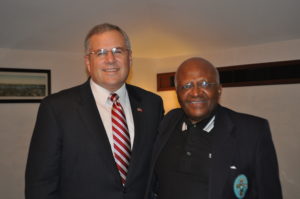 Our time with Archbishop Emeritus Desmond Tutu was the most memorable of all our meetings with government and community leaders. I had met him before and always appreciated the archbishop's positive attitude and infectious laugh. We enjoyed an insightful discussion about South Africa, the continent, and global issues.
"You are going to be a very credible presidential candidate," Archbishop Tutu told Senator Obama with confidence as we were departing his Soweto residence. We all just laughed, but I quietly believed the archbishop was right on the mark in his insightful prediction.
---
---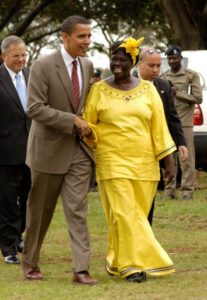 We traveled from South Africa to Kenya on August 24th.  Our itinerary in Kenya took us around Nairobi, with day trips to Kisumu and Wajir.
Wangari Maathai stepped forward from the line of dignitaries to greet us as we arrived at Nairobi's Uhuru Park on Monday. The overcast skies did not dull Kenya's Nobel Peace Prize laureate and world-renown environmentalist's bright yellow dress or diminish her passion as she presided over the tree-planting ceremony. Senator Obama and his family planted an African olive tree and an evergreen tree native to Africa.
---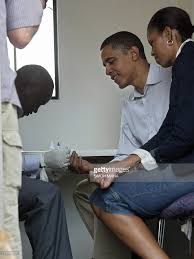 Arriving at a regional HIV/AIDS testing center in Kisumu, Barack and Michelle Obama went through the counseling and testing steps together for all to see and hear, including having their blood tested. When the process was complete, the Senator gave a compelling speech, pleading for everyone to know their status. This public HIV/AIDS test by both of the Obamas encouraged Kenyan couples to be tested together and gave a very positive boost to the fight against the spread of this deadly virus in Kenya and East Africa.
---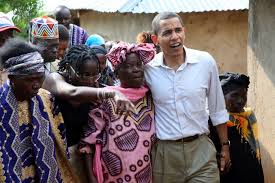 Our convoy of Toyota Land Cruisers pulled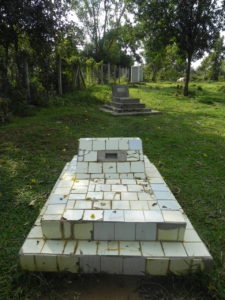 up to the front of Mama Sarah's modest house in the tiny village of Nyangoma-Kogelo near Kisumu. Standing by the porch was Senator Obama's eighty-five-year-old grandmother, greeting us with open arms and a warm smile—Sarah Hussein Onyango Obama was obviously delighted to see her now-famous grandson. This visit was intended to give the Obamas some family time, especially since Malia and Sasha were visiting the burial site of their Kenyan grandfather and meeting their great-grandmother for the first time.
---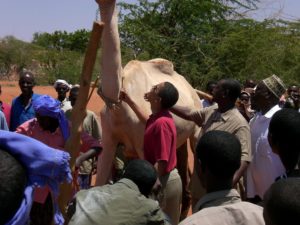 While most of Nairobi was waking leisurely to a beautiful Sunday morning, Senator Obama and I boarded a USAF C-130 cargo aircraft for the flight to Wajir, a rural town in northeastern Kenya. After an hour of discussions in the community center, our team visited the local camel and sheep auction, and then we sat under the shade of a solitary tree where a group of younger men and women told us about their economic struggles.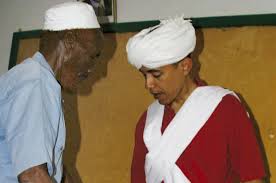 Before leaving, community leaders presented Senator Obama with a parting gift of local garb—the traditional white cloth Somali men use to wrap themselves. After significant prompting, he agreed to try it on with the help of our hosts. Someone in our group captured this act of kindness and generosity on the part of our hosts and Senator Obama's reciprocal appreciation on camera. Whether inadvertently or with malicious intent, the photograph of Senator Obama trying on local robes over his plum-colored golf shirt and khakis hit media outlets with a splash. It became a Drudge Report headline and many newspapers and television commentators across America used the story to portray the Senator as a Muslim.
---
---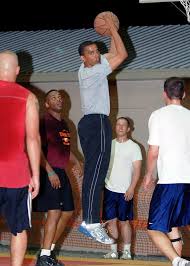 Senator Obama did not have an obvious connection with the military, so I was not sure how this visit was going to turn out. Shortly after the briefings and a walking tour of the facilities ended, Senator Obama was on the courts, participating in a pick-up basketball game. Clearly, my fears about the Senator's possible inability to relate to the US military were unfounded.
Read Flight Path to lean about Senator Obama's visits to Ethiopia and Chad.